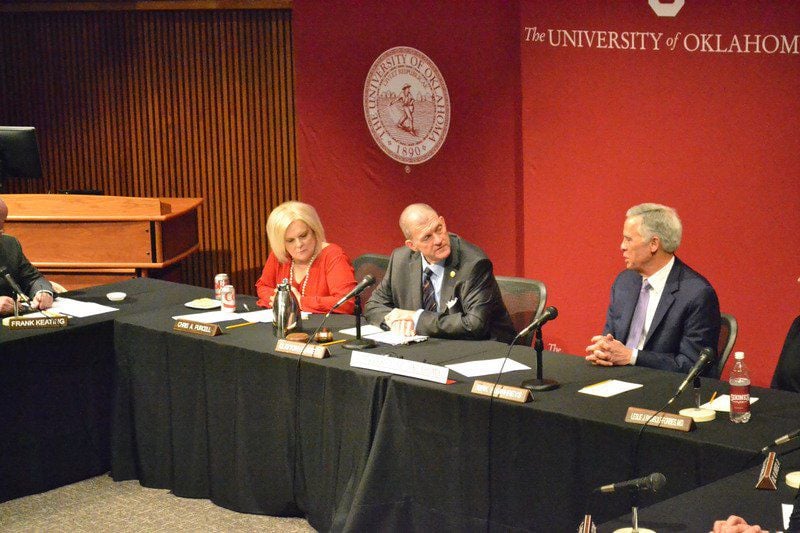 The removal of Kirk Humphreys as a regent for the University of Oklahoma is a very, very serious matter. Frankly, I am shocked at how silent the majority of Oklahomans have been on this issue.
A few, like my friend Dr. Sam Storms, are not being silent.
Below is a letter from Dr. Sam Storms to Dr. David Boren, President of the University of Oklahoma over the removal of Kirk Humphreys.

Dear President Boren and the Board of Regents:

My name is Sam Storms and I serve as Senior Pastor of Bridgeway Church in Oklahoma City. I am a 1973 graduate of the University of Oklahoma, as is my wife. My sister and her husband are OU grads, and so too were both my mother and father. Needless to say, we are all "Sooner born and Sooner bred and when we die we'll be Sooner dead."

Let me begin by congratulating you on your tremendous success in elevating the academic excellence of the University of Oklahoma to a level heretofore unattained. You have every right to be proud of this accomplishment and I applaud your continuing efforts in this regard.

However, I write this letter deeply grieved by recent actions taken by the Board of Regents regarding Kirk Humphreys. Instead of defending his freedom to articulate his beliefs on a matter of great moral significance in our society, he was vilified, abandoned, and exposed to public ridicule without so much as a word being spoken in his defense. I'm not asking that you agree with his moral convictions concerning homosexual practice but only that you extend to him the same respect and intellectual freedom that you so tenaciously protect on behalf of all others.

Mr. Humphreys is an evangelical Christian who simply articulated the view that has been traditionally embraced for 2,000 years by Christians of virtually all branches. If you have any doubts in this regard, I commend to you the book by S. Donald Fortson III and Rollin G. Grams, Unchanging Witness: The Consistent Christian Teaching on Homosexuality in Scripture and Tradition (B & H Academic, 2016; 402 pages). They provide extensive and irrefutable documentation that the view articulated by Kirk Humphreys is and has been the dominant opinion of Christians throughout our history.

Let me be clear that neither Mr. Humphreys nor I am even remotely suggesting that homosexuality is comparable to pedophilia. His public apology for not speaking with greater clarity on that point must be noted and is to be commended.

I am aware that Mr. Humphreys voluntarily resigned from the Board of Regents, but he would not have done so had this not been the request of you and the other Board members. What this tells me and others is that anyone can serve on the Board and at the University except evangelical Christians. It tells me that every view is permissible and should be granted freedom of expression and protection from discrimination except the view embraced by orthodox, Bible-believing Christians.

You speak much of "inclusion" and showing respect for all views. But apparently this only applies to those who affirm homosexual behavior as morally permissible. Your discriminatory action toward Mr. Humphreys is contrary to everything you have said and done in the past to promote academic freedom at the University. I can't imagine what other employees of OU and especially faculty members must be thinking. I'm quite certain that they will feel the pressure to conform and will realize that any notion of academic freedom to research and give expression to what they believe is true is a myth.

And what will become of the numerous students at OU who likewise share Mr. Humphreys' perspective? I suspect that most of them will be intimidated into silence, fearful that any expression of evangelical Christian convictions will result in their being penalized both personally and academically.

Why is Mr. Humphreys not shown the same respect that is shown to the LGBTQ community at OU? Yes, members of that community are deserving of respect, dignity, and must be given equal access to the wonderful educational resources and opportunities that OU exists to provide. Mr. Humphreys himself has voiced whole-hearted agreement with that principle. So why is he the object of exclusion and discrimination when he articulates his personal perspective? Are all evangelical Christians now to believe that their historic, long-standing, biblical convictions are no longer welcome at OU? Why is Mr. Humphreys the target of such remarkable intolerance at a University that purportedly promotes tolerance?

Your actions with regard to Mr. Humphreys indicate to me and countless others that you have capitulated to the pressure of special interest groups in our society. I had hoped that the President (and Board of Regents) of the University I have so dearly loved and supported would have more courage to defend the free speech rights of one of its Regents. By all means, say that you disagree with Mr. Humphreys. If the other Regents concur, then by all means give expression to your opinions. But please extend to him the same rights and freedom you claim for yourself.

My family has held season tickets for OU football since 1947. I, too, am a season-ticket holder. But in view of this deplorable treatment of Mr. Humphreys and suppression of the historic Christian view on human sexuality, I am compelled to cancel my participation. And I will urge others to do likewise.

I suspect that this will have little impact on your decision to grant Mr. Humphreys the same respect and honor that you so vigorously extend to those in the LGBTQ community, but my conscience will not allow me to support in any way a university that practices such inexcusable discrimination and exclusionary behavior toward evangelical Christians. Should the day come when you publicly affirm that evangelical Christians have the same rights and freedom of expression that is extended to people in the LGBTQ community, I will reconsider my actions. But until then I must remain firm in my commitment.

Cordially yours,

Sam Storms, B.A., Th.M., Ph.D.
Senior Pastor
Bridgeway Church
Oklahoma City, OK